Henri Cartier-Bresson Photographs & Prints
Artists Alphabetical Listing:
A - B - C - D - E - F - G - H - I - J - K - L - M - N - O - P - Q - R - S - T - U - V - X - Y - Z
Sidewalk Cafe, Boulevard Diderot
24in x 32in
View this Photograph
Sifnos, Grece
16in x 12in
View this Photograph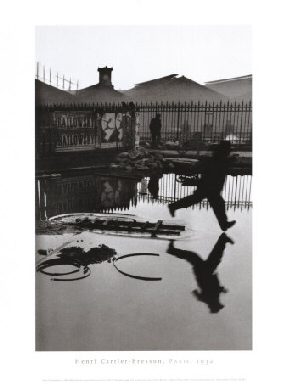 Biography: Henri Cartier-Bresson was born 1908 in Chanteloup-en-Brie, near Paris, France. He died in 2000. He was one of the pioneers of modern photojournalism and one of the early users of the 35mm film format. Trained as an oil painter, he began experimenting with photography in the late 1920s, but took it up full-time in the early 1930s while recuperating from blackwater fever, which he'd contracted on the Ivory Coast of Africa. An early influence was the Hungarian photographer Martin Munkacsi who espoused capturing the immediate object as opposed to posed subjects. In Paris, he shared a photography studio with Robert Capa. In the late 1930s, he began working as a photojournalist. Working as a photographer in the French Army at the start of WWII, he was captured by the Germans in 1940, spending 35 months as a prisoner-of-war, before escaping in 1942. Click any thumbnail to view a larger version or make a purchase.
Henri Cartier-Bresson Photographs
Find More Black & White Art Photographs:
We offer the very best fine art posters and prints available today on the Web, including paintings and artworks by Monet, Warhol, Picasso, Monet, Van Gogh, Wyeth, O'Keeffe, and many other fine artists. Check out our Custom Framing options! Satisfaction is guaranteed.* Orders are 100% secure. Click any thumbnail to view a larger version or make a purchase.
Henri Cartier-Bresson Pre-Framed Art
Pre-Framed Prints are crafted by professionally trained framers using the highest quality framing materials, at savings up to 40% off what your local frame shop will charge. 30-day money back guarantee.*
Find More Pre-Framed Photographs:
Henri Cartier-Bresson Sources & References