Andreas Feininger Photographs & Prints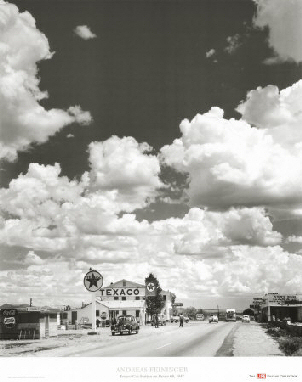 Biography: Andreas Feininger was born in Paris, France, in 1906. He died in 1999 in the United States. His father was the American painter Lyonel Feininger, who was born in New York City in 1871.

Andreas Feininger was raised and educated in Germany, where his father taught painting at the Bauhaus. Originally studying to be an architect, he switched to photography when he moved to Sweden in 1936. In 1939 he emigrated to the United States, working initially as a freelance photographer, then later as a staff photographer for Life magazine. Other famous documentary and journalistic photographers include Dorothea Lange, Alfred Eisenstaedt, Robert and Cornell Capa, Walker Evans, and Margaret Bourke-White. Click any thumbnail to view a larger version or make a purchase.
Andreas Feininger Photographs
Find More Black & White Art Photographs:
More Andreas Feininger Art Photographs
We offer the very best fine art posters and prints available today on the Web, including paintings and artworks by Monet, Warhol, Picasso, Monet, Van Gogh, Wyeth, O'Keeffe, and many other fine artists. Check out our Custom Framing options! Satisfaction is guaranteed.* Orders are 100% secure. Click any thumbnail to view a larger version or make a purchase.
Andreas Feininger Pre-Framed Art
Pre-Framed Prints are crafted by professionally trained framers using the highest quality framing materials, at savings up to 40% off what your local frame shop will charge. 30-day money back guarantee.*
Find More Pre-Framed Photographs:
Andreas Feininger Wall Murals
Wall Murals are made of one 4'x6' laminated photographic paper panel. Removable, paint-safe picture hanger strips are included for ease of hanging or mural can be affixed to wall using wallpaper paste. Paste not included.
Find More Wall Murals:
Andreas Feininger Sources & References