Edward S. Curtis, American Photographer
Artists Alphabetical Listing (180+ Artists):
A - B - C - D - E - F - G - H - I - J - K - L - M - N - O - P - Q - R - S - T - U - V - X - Y - Z

Chief Joseph-Nez Perce, 1903
18in x 24in / Other Sizes
View this Giclee Print
Chief Joseph
18in x 24in / Other Sizes
See this Giclee Print
Three Eagles, Nez Perce Indian
18in x 24in / Other Sizes
See this Giclee Print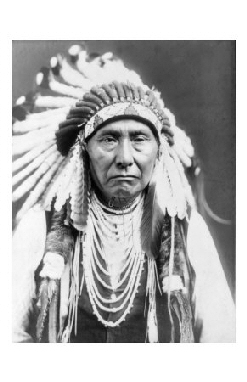 Biography: Edward Sheriff Curtis was born in 1868 in Whitewater, Wisconsin. He died in 1952 in Whittier, California.

The family moved to Minnesota in the 1870s. Curtis built his first camera at the age of 12, and became an apprentice photographer at age 16. In 1887 he moved with his family to Port Orchard, Washington, located on Puget Sound across from Seattle. With his father having died in 1888, Curtis mortgaged the family homestead in 1890 and moved to Seattle, where he bought a share in a photography studio.

In 1895 he photographed Princess Angeline, daughter of Chief Seattle (or Sealth), starting a long career photographing Native Americans, including the Nez Perce, Blackfeet, Navaho, Hopi, and other American Indian tribes. His brother, Asahel Curtis, also became a noted photographer.

Click any thumbnail to view a larger version or make a purchase.
Edward S. Curtis Prints and Posters
Photographic Prints are digitally printed on archival photographic paper. Premium photographic prints are produced from a scan of an original negative or vintage print and printed on premium fiber-based paper using archival inks.
Edward S. Curtis High-Resolution Giclee Prints
Giclée (pronounced "zhee-clay") is a French word meaning "to spray," designating a high-resolution printing process using a fine spraying of long-lasting archival quality inks. Giclée prints have the truest color fidelity and highest apparent resolution available today. Find out more...
We offer the very best fine art posters and prints available today on the Web, including paintings and artworks by Monet, Warhol, Picasso, Monet, Van Gogh, Wyeth, O'Keeffe, and many other fine artists. Check out our Custom Framing options! Satisfaction is guaranteed.* Orders are 100% secure. Click any thumbnail to view a larger version or make a purchase.
Find More Edward S. Curtis Prints and Posters: