Robert Doisneau, French Photographer
Artists Alphabetical Listing (180+ Artists):
A - B - C - D - E - F - G - H - I - J - K - L - M - N - O - P - Q - R - S - T - U - V - X - Y - Z
<!a target="_blank" rel="nofollow" href="http://www.kqzyfj.com/click-7812676-10692043-1438289244000?url=http%3A%2F%2Faffiliates.art.com%2Fget.art%3FP%3D10064468%26L%3D8%26Y%3D1%26A%3D547673&cjsku=10064468">
Bouquet of Jonquils
24in x 32in
<!a target="_blank" rel="nofollow" href="http://www.kqzyfj.com/click-7812676-10692043-1438289244000?url=http%3A%2F%2Faffiliates.art.com%2Fget.art%3FP%3D10064468%26L%3D8%26Y%3D1%26A%3D547673&cjsku=10064468" target="_blank">
View this Art Print
<!a target="_blank" rel="nofollow" href="http://www.kqzyfj.com/click-7812676-10692043-1438289244000?url=http%3A%2F%2Faffiliates.art.com%2Fget.art%3FP%3D10064469%26L%3D8%26Y%3D1%26A%3D547673&cjsku=10064469">
Opera Kiss
24in x 32in
<!a target="_blank" rel="nofollow" href="http://www.kqzyfj.com/click-7812676-10692043-1438289244000?url=http%3A%2F%2Faffiliates.art.com%2Fget.art%3FP%3D10064469%26L%3D8%26Y%3D1%26A%3D547673&cjsku=10064469" target="_blank">
View this Art Print
<!a target="_blank" rel="nofollow" href="http://www.kqzyfj.com/click-7812676-10692043-1438289244000?url=http%3A%2F%2Faffiliates.art.com%2Fget.art%3FP%3D10064464%26L%3D8%26Y%3D1%26A%3D547673&cjsku=10064464">
Musician in the Rain
20in x 28in / 10in x 12in
<!a target="_blank" rel="nofollow" href="http://www.kqzyfj.com/click-7812676-10692043-1438289244000?url=http%3A%2F%2Faffiliates.art.com%2Fget.art%3FP%3D10064464%26L%3D8%26Y%3D1%26A%3D547673&cjsku=10064464" target="_blank">
View this Art Print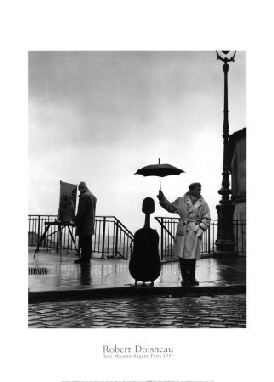 Biography: Robert Doisneau was born 1912 in Gentilly, Val-de-Marne, in the southern suburbs of Paris, France. He died in 1994. Doisneau is famous for his photographs of Parisian street life. Originally trained as a lithographer, he took up photography as a profession in the early 1930s, working for the French magazine, Le'Excelsior. In the late 1930s, he worked as a publicity photographer for Renault, until he was fired for frequent absences from work. During WWII, he joined the Resistance, both fighting and serving as a photographer.

Primarily working in Paris, Doisneau is best known for his photographs of kissing couples and children. Other well-known French photographers include Henri Cartier-Bresson, Brassai, Edouard Boubat, and Willy Ronis.

Click any thumbnail to view a larger version or make a purchase.
Robert Doisneau Photographs
<!a target="_blank" rel="nofollow" href="http://www.kqzyfj.com/click-7812676-10692043-1438289244000?url=http%3A%2F%2Faffiliates.art.com%2Fget.art%3FP%3D8823119832%26L%3D8%26Y%3D1%26A%3D547673&cjsku=8823119832">

Les Pains de Picasso, Vallauris 1952
20in x 24in
<!a target="_blank" rel="nofollow" href="http://www.kqzyfj.com/click-7812676-10692043-1438289244000?url=http%3A%2F%2Faffiliates.art.com%2Fget.art%3FP%3D8823119832%26L%3D8%26Y%3D1%26A%3D547673&cjsku=8823119832" target="_blank">
View this Art Print
<!a target="_blank" rel="nofollow" href="http://www.kqzyfj.com/click-7812676-10692043-1438289244000?url=http%3A%2F%2Faffiliates.art.com%2Fget.art%3FP%3D10283229%26L%3D8%26Y%3D1%26A%3D547673&cjsku=10283229">
Le Baiser de l'Hotel de Ville, Paris, 1950
12in x 10in
<!a target="_blank" rel="nofollow" href="http://www.kqzyfj.com/click-7812676-10692043-1438289244000?url=http%3A%2F%2Faffiliates.art.com%2Fget.art%3FP%3D10283229%26L%3D8%26Y%3D1%26A%3D547673&cjsku=10283229" target="_blank">
View this Art Print
<!a target="_blank" rel="nofollow" href="http://www.kqzyfj.com/click-7812676-10692043-1438289244000?url=http%3A%2F%2Faffiliates.art.com%2Fget.art%3FP%3D14175307%26L%3D8%26Y%3D1%26A%3D547673&cjsku=14175307">
Baiser Blotto, c.1950
16in x 20in / Other Sizes
<!a target="_blank" rel="nofollow" href="http://www.kqzyfj.com/click-7812676-10692043-1438289244000?url=http%3A%2F%2Faffiliates.art.com%2Fget.art%3FP%3D14175307%26L%3D8%26Y%3D1%26A%3D547673&cjsku=14175307" target="_blank">
View this Art Print
<!a target="_blank" rel="nofollow" href="http://www.kqzyfj.com/click-7812676-10692043-1438289244000?url=http%3A%2F%2Faffiliates.art.com%2Fget.art%3FP%3D14175317%26L%3D8%26Y%3D1%26A%3D547673&cjsku=14175317">
Les Chien du Marquis de Cuevas, Bois de Boulogne
11in x 17in / Other Sizes
<!a target="_blank" rel="nofollow" href="http://www.kqzyfj.com/click-7812676-10692043-1438289244000?url=http%3A%2F%2Faffiliates.art.com%2Fget.art%3FP%3D14175317%26L%3D8%26Y%3D1%26A%3D547673&cjsku=14175317" target="_blank">
View this Art Print
<!a target="_blank" rel="nofollow" href="http://www.kqzyfj.com/click-7812676-10692043-1438289244000?url=http%3A%2F%2Faffiliates.art.com%2Fget.art%3FP%3D10063935%26L%3D8%26Y%3D1%26A%3D547673&cjsku=10063935">
Pipi Pigeon
12in x 10in
<!a target="_blank" rel="nofollow" href="http://www.kqzyfj.com/click-7812676-10692043-1438289244000?url=http%3A%2F%2Faffiliates.art.com%2Fget.art%3FP%3D10063935%26L%3D8%26Y%3D1%26A%3D547673&cjsku=10063935" target="_blank">
View this Art Print
<!a target="_blank" rel="nofollow" href="http://www.kqzyfj.com/click-7812676-10692043-1438289244000?url=http%3A%2F%2Faffiliates.art.com%2Fget.art%3FP%3D14433112%26L%3D8%26Y%3D1%26A%3D547673&cjsku=14433112">
Fontaine Wallace
16in x 20in
<!a target="_blank" rel="nofollow" href="http://www.kqzyfj.com/click-7812676-10692043-1438289244000?url=http%3A%2F%2Faffiliates.art.com%2Fget.art%3FP%3D14433112%26L%3D8%26Y%3D1%26A%3D547673&cjsku=14433112" target="_blank">
View this Art Print
<!a target="_blank" rel="nofollow" href="http://www.kqzyfj.com/click-7812676-10692043-1438289244000?url=http%3A%2F%2Faffiliates.art.com%2Fget.art%3FP%3D14433106%26L%3D8%26Y%3D1%26A%3D547673&cjsku=14433106">
La Pendule, Paris, c.1957
10in x 12in
<!a target="_blank" rel="nofollow" href="http://www.kqzyfj.com/click-7812676-10692043-1438289244000?url=http%3A%2F%2Faffiliates.art.com%2Fget.art%3FP%3D14433106%26L%3D8%26Y%3D1%26A%3D547673&cjsku=14433106" target="_blank">
View this Art Print
<!a target="_blank" rel="nofollow" href="http://www.kqzyfj.com/click-7812676-10692043-1438289244000?url=http%3A%2F%2Faffiliates.art.com%2Fget.art%3FP%3D12898660%26L%3D8%26Y%3D1%26A%3D547673&cjsku=12898660">
School Kids
12in x 10in
<!a target="_blank" rel="nofollow" href="http://www.kqzyfj.com/click-7812676-10692043-1438289244000?url=http%3A%2F%2Faffiliates.art.com%2Fget.art%3FP%3D12898660%26L%3D8%26Y%3D1%26A%3D547673&cjsku=12898660" target="_blank">
View this Art Print
<!a target="_blank" rel="nofollow" href="http://www.kqzyfj.com/click-7812676-10692043-1438289244000?url=http%3A%2F%2Faffiliates.art.com%2Fget.art%3FP%3D14433181%26L%3D8%26Y%3D1%26A%3D547673&cjsku=14433181">
Les Chiens de la Chapelle
10in x 12in
<!a target="_blank" rel="nofollow" href="http://www.kqzyfj.com/click-7812676-10692043-1438289244000?url=http%3A%2F%2Faffiliates.art.com%2Fget.art%3FP%3D14433181%26L%3D8%26Y%3D1%26A%3D547673&cjsku=14433181" target="_blank">
View this Art Print
<!a target="_blank" rel="nofollow" href="http://www.kqzyfj.com/click-7812676-10692043-1438289244000?url=http%3A%2F%2Faffiliates.art.com%2Fget.art%3FP%3D14433175%26L%3D8%26Y%3D1%26A%3D547673&cjsku=14433175">
Le Ruban de la Mariee
10in x 12in
<!a target="_blank" rel="nofollow" href="http://www.kqzyfj.com/click-7812676-10692043-1438289244000?url=http%3A%2F%2Faffiliates.art.com%2Fget.art%3FP%3D14433175%26L%3D8%26Y%3D1%26A%3D547673&cjsku=14433175" target="_blank">
View this Art Print
<!a target="_blank" rel="nofollow" href="http://www.kqzyfj.com/click-7812676-10692043-1438289244000?url=http%3A%2F%2Faffiliates.art.com%2Fget.art%3FP%3D14433150%26L%3D8%26Y%3D1%26A%3D547673&cjsku=14433150">
Le Chien a Roulettes, c.1977
12in x 10in
<!a target="_blank" rel="nofollow" href="http://www.kqzyfj.com/click-7812676-10692043-1438289244000?url=http%3A%2F%2Faffiliates.art.com%2Fget.art%3FP%3D14433150%26L%3D8%26Y%3D1%26A%3D547673&cjsku=14433150" target="_blank">
View this Art Print
<!a target="_blank" rel="nofollow" href="http://www.kqzyfj.com/click-7812676-10692043-1438289244000?url=http%3A%2F%2Faffiliates.art.com%2Fget.art%3FP%3D14433162%26L%3D8%26Y%3D1%26A%3D547673&cjsku=14433162">
Champ de Mars, Paris
10in x 12in
<!a target="_blank" rel="nofollow" href="http://www.kqzyfj.com/click-7812676-10692043-1438289244000?url=http%3A%2F%2Faffiliates.art.com%2Fget.art%3FP%3D14433162%26L%3D8%26Y%3D1%26A%3D547673&cjsku=14433162" target="_blank">
View this Art Print
Find More Robert Doisneau Photographs:
Robert Doisneau Sources & References