Giclée Prints
are printed on
high-quality thick acid-free paper
with a microscopically fine spray of ink for gallery-quality image resolution, color depth, longevity and durability, in sizes from small to large.
Art Prints
are printed on
premium-paper with a silken protective-coating
for an excellent balance between quality and value.
Satisfaction is guaranteed.
Click through to find additional print sizes and types.
Agua Colonia Griet
18 x 24" Giclee Print
Paquet Marseille
28 x 40" Art Print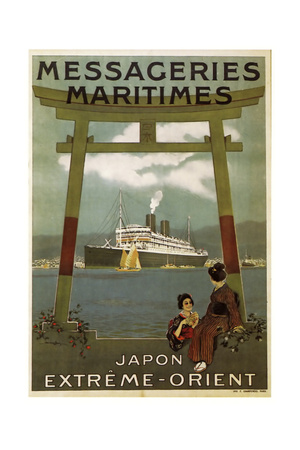 Messageries Japon
16 x 24" Giclee Print
Find More Vintage Prints at Art.com:
Biography: Sandy Hook was born as Georges Taboureau in 1879 in France and died in 1960. He is best known for the posters he designed for Messageries Maritimes, Chargeurs Reunis, Compagnie Generale Transatlantique, Cunard, and other cruise ship companies from the 1920s and 1930s using the pseudonym "Sandy Hook". (Return to Top.)
We're dedicated to helping you find the exact poster or print you're looking for - if you can't find it here, and we'll see if we can hunt it down for you!
Contact:
© 2002-2017 by Steve Callihan
All Rights Reserved