Alsace-Lorraine Railways Vintage Posters
Artists Alphabetical Listing: (150+ Artists!)
A - B - C - D - E - F - G - H - I - J - K - L - M - N - O - P - Q - R - S - T - U - V - X - Y - Z
Golf Club d'Alsace
by Dorette Muller
20in x 28in
View this Art Print
Le Ballon de Guebwiller
by Roger Broders
18in x 24in
View this Giclee Print
Le Markstein, Vosges
by Chaucard
20in x 28in
View this Art Print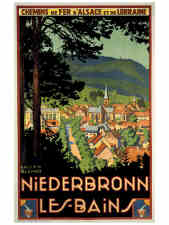 Vintage Alsace-Lorraine Railways Posters are a great way to decorate your living space in a railway, travel, or French theme. Prior to 1871, the railway lines in Alsace-Lorraine were run by the French Eastern Railways (Chemins de Fer de l'Est), but following the French defeat in the Franco-Prussian War were ceded to the German Empire as the Imperial Railways in Alsace-Lorraine. In 1919, following German defeat in WWI, they were ceded back to France and operated as the Chemins de Fer d'Alsace et de Lorraine (Alsace and Lorraine Railways). In 1938, they were absorbed into the Societe Nationale des Chemins de fer Francais (The National Society of French State Railways), or SNCF, along with the other major french railways. The most well-known of designers who created posters for the Alsace and Lorraine Railways was Roger Broders. Satisfaction is guaranteed.* Orders are 100% secure.* Click any thumbnail to view a larger version or make a purchase.
Vintage Alsace-Lorraine Railways Posters
Giclée (pronounced "zhee-clay") means "fine spray" in French, designating a high-resolution digital printing process using fade-resistant archival inks and acid-free paper. Giclée prints have the truest color-fidelity available today. Find out more...
Find More Vintage Prints:
Pre-Framed Alsace-Lorraine Railways Vintage Posters
Pre-Framed Prints will be delivered sooner than custom-framed prints, usually arriving within 3 to 5 business days. They are crafted by professionally trained framers using the highest quality framing materials, at savings up to 40% off what your local frame shop will charge. 30-day money back guarantee.*
Find More Vintage Pre-Framed Art
Sources & References